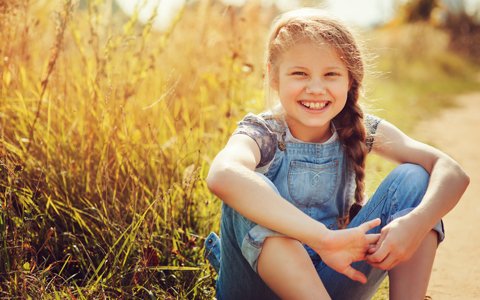 Do you want your child to have straighter teeth, a healthy smile, a better bite, and most importantly have enough space for their permanent teeth? Traditional metal braces can accomplish these goals, but Invisalign:
Is more comfortable.
Uses no metal.
Lets your child eat regular foods.
Causes less pain.
Can do much more!
Younger children and teens love the advantages of Invisalign, including how easy it is to use. Contact Clocktower Family Dental if you want a no-pressure, no-obligation consultation.
Invisalign Treatment for Ages 6–10
Invisalign First was specifically designed for children and is an exciting new option. It's no secret that kids grow fast! Did you know that we get our first adult-size teeth around the age of six? Around the age of 12, kids have lost most or all their baby teeth. This means that all those adult teeth need to fit in that 12-year-old jaw.
Invisalign First clear aligners help make space for adult teeth while gently guiding permanent teeth into position. We now worry less about the dreaded "shark tooth" or "snaggletooth".
Although there may always be a need for metal braces and metal expanders, we may be able to avoid them if we intervene early enough. Invisalign uses softer materials, and they cover the teeth comfortably throughout the day, gradually moving them over time.
Invisalign First for ages 6–10 is able to:
Gradually expand your child's jaw as he or she grows.
Straighten teeth for a great smile.
Correct bite alignment issues.
Create space for new teeth as they grow in.
Help get your child ready for healthy adult teeth.
Prevent more (expensive) oral problems from starting.
Clear aligners are easy for children to use. They just wear them most of the day and all night (22 hours per day), popping them out temporarily for meals and brushing. The Invisalign system does the rest. Once all the permanent teeth are safely in, Invisalign Teen or traditional Invisalign refines the teeth' position and bite.
Schedule an Early Evaluation
Not every child needs orthodontic work. But it's important to get an evaluation to be sure—and to give us time to intervene if an issue is developing.
When children still have a mix of baby teeth and adult teeth, it's easy for problems to start, such as teeth drifting out of alignment. We might find:
Cosmetic alignment issues.
Arch development issues.
Tooth crowding.
Teeth interfering with other teeth.
The need to expand an arch of teeth.
Uneven meeting of the upper and lower teeth.
But your dentist at Clocktower Family Dental can detect these issues before they go too far. With Invisalign, we can create a healthy dental foundation to get your child ready for their adult teeth to come in.
What Is the Process of Invisalign for Children?
When you and your child visit us, our first priority is to make your child feel welcome, comfortable, and receptive. It can take a delicate touch to help children with their anxieties, and we have a lot of experience with children here. Next, we go through these general steps:
Scanning: The team will use state-of-the-art scanning technology to create a detailed digital map of your child's teeth and jaw.
Planning: We use Invisalign software to plan a series of aligners that will gradually move the teeth and jaw—although some children only need one set.
Creating Aligners: Invisalign laboratories build the aligners using the world's largest bank of 3D printers.
Placing Aligners: At a later appointment, we'll show you and your child how to wear the aligners (about 22 hours per day) and give you tips to make it easy.
We'll need you to visit us for checkups during the process. That way, we'll make sure your child is making good progress with Invisalign.
What About Invisalign for Teens?
Teens are often busy with school, part-time jobs, getting ready for college, sports, and more. So, Invisalign should fit into that busy schedule. The process for working with your teen is similar to the process above:
A talk with the Invisalign dentist.
An evaluation to make sure Invisalign is right for the patient.
Wearing clear aligners most of the day and night (22 hours a day).
Enjoy your beautiful smile!
Your teen can also use the Invisalign app on their smartphone. It'll give reminders of when to switch to their next set of aligners and has an option for online checkups.
4 Benefits of Invisalign for Children and Teens
Kids can still play sports with Invisalign. They don't have to worry about breaking a bracket.
They can eat crunchy and sticky foods they wouldn't be able to eat with metal braces.
Clear aligners don't stand out like metal braces, lowering the embarrassment factor.
Invisalign causes far less discomfort than tight metal braces.
Start With an Invisalign Consultation at Clocktower Family Dental
Invisalign isn't right for every patient. We'll start with a thorough evaluation of your child's or teen's dental health and tooth and jaw structure, then give you recommendations on how to move forward.
There's no obligation to choose Invisalign, so set up your consultation to learn more. Call Clocktower Family Dental now to get started.